These rubber brake hoses are designed for air brake systems on railway equipment and cars. The rubber brake hoses provide a conduit for air flow to build pressure and allow the operator to effectively engage the braking system.
Standards
Our brake line hoses meet all inspection and test specifications, and comply with the latest standards of D-380 D-471, ASTM, and D-1149 D-518.
ASTM D 380 Test Method for Rubber Hose
ASTM D 471 Test Method for Rubber Property--Effect of Liquids
ASTM D 518 Test Method for Rubber Deterioration-Surface Cracking
ASTM D 1149 Test Method for Rubber Deterioration--Cracking in an Ozone Controlled Environment
Structure
Tube: Black, NBR compound synthetic rubber
Reinforcement: High tensile textile cord
Cover: Black, wrapped finish, CR rubber, weather, abrasion and oil resistant
Length: Cut in lengths of use, or 100 meters continuous length
Temperature range: -50 to 70℃
Safety: 4:1
Color: Black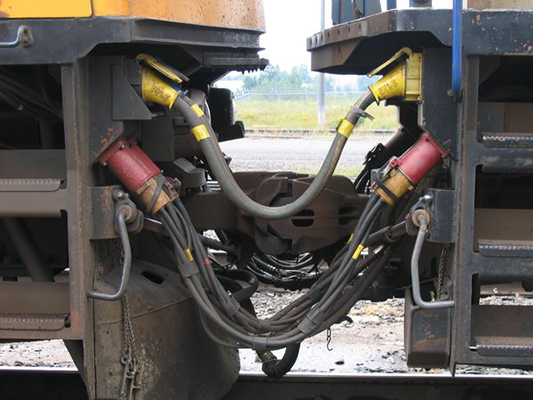 Dimensions and Tolerances
The hose length is the distance from the center of the hose coupling to the end of the hose thread.
Rubber Brake Hose
Length (inch)
External Diameter (inch)
Inner Diameter (inch)
Minimum
Maximum
Minimum
Maximum
Minimum
Maximum
27
26 1/2
2 1/8
2 1/16
1 7/16
1 3/8
38 1/16
37 3/8
2 1/8
2 1/16
1 7/16
1 3/8
Certificates