New rubber mixing workshop equipped with advanced machines and mixing technology was built, significantly improving the quality and output of rubber compounds. In order to guarantee the quality, the black rubber compounds are processed separately with the colored ones. Each process needs to be strictly inspected. Only after passing the inspection, next process can be then carried out.
Rubber Mixing Workshop
Black Rubber Compound
Colored Rubber Compound
Pallet of Finished Compound
The rubber compounds in each batch will be strictly tested before using. Zebung is equipped with various oil hose testing machines to carry out tests including tensile, twisting, bending.
Laboratory
We have several automatic production lines for processing rubber hoses with diameter ranging from 6mm to 1150mm to meet various customer needs.
Automatic Production Line for Rubber Hoses with 13m Diameter
40m Rubber Hose Automatic Production Line
50m Rubber Hose Automatic Production Line
60m Rubber Hose Automatic Production Line from VP
Rubber Hose Warehouse
40m Rubber Hose Automatic Production Line
50m Rubber Hose Automatic Production Line
60m Rubber Hose Automatic Production Line from VP
Workshop overview in 2015
1. Raw Materials
The raw materials for our hoses include natural rubber imported from Thailand and nitrile butadiene rubber (NBR) from South Korea. Both materials are chosen because of their high temperature resistance.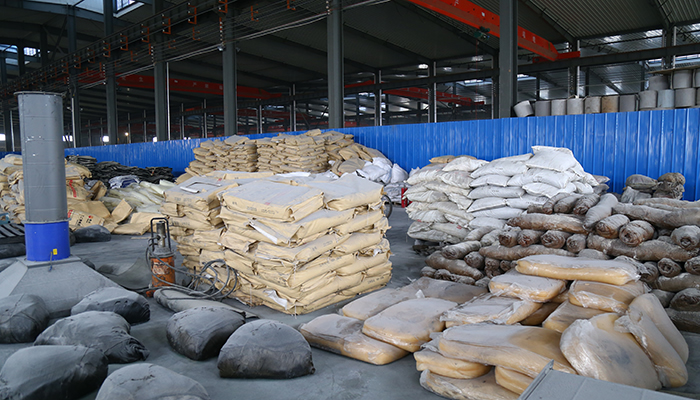 2. Mixing Process
The mixing process includes batching, mixing, cutting, etc.
A rubber mixing mill is used for batching and pressing raw materials.
A Calender machine is used for calendering and forming the rubber.
The rubber, after being pressed, will be cut into the required sizes and then rolled tinto semi-finished products.
Semi-finished Products Area
3. Rubber Slitter
The rubber slitter is used for cutting the hose according to the required diameter. It can use 10 knives together to cut rubber hoses.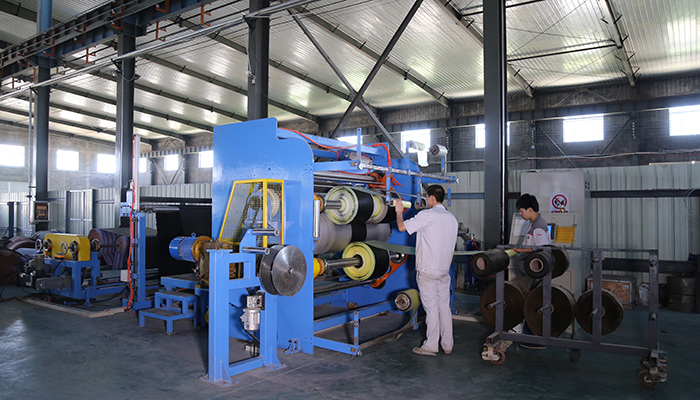 The material is cut by the rubber slitter
4. Extruder
The extruder has two steps, the first step is extruding the hose core, and the second step is extruding the braided hose.
The rubber hose has a uniform wall thickness, and features anti-aging and wear resistance.
The braided hose is heated by chloride rubber and extruded rubber.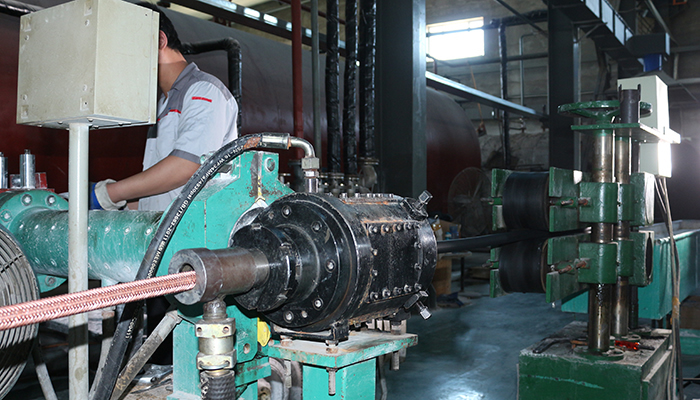 5. Braiding Machine
We have 7 high speed braiding machines and 7 common braiding machines. The production capacity of the high speed braiding machine is 1000m/day, the common braiding machine is 300m/day.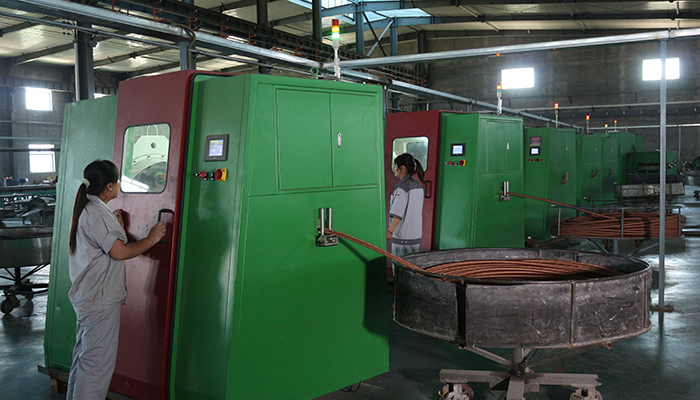 The 24 spindle cotton braiding machine is used to braid polyester yarn on nylon hose. The inner diameter of the hose is 6mm-25mm.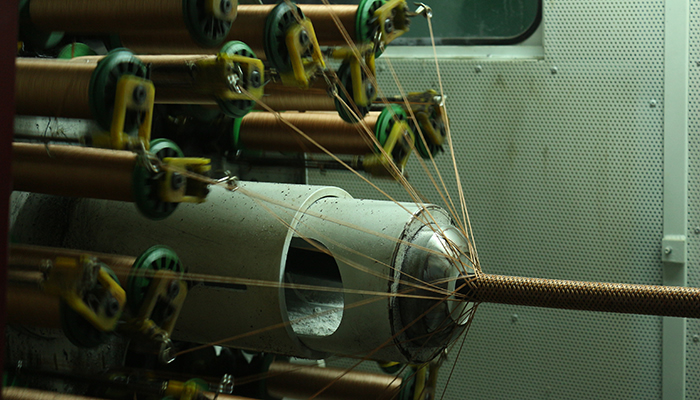 6. 60m Automatic Industrial Hose Production Line
Our company has imported 2 60 m automatic industrial hose production lines from Italy.
60m VP Industrial Hose Production Line
The density of the hose is uniform. The strength of the adhesion is strong between wire and wire, wire and rubber.
Rubber Winding
Wire Winding
7. Food Grade Hose Production Line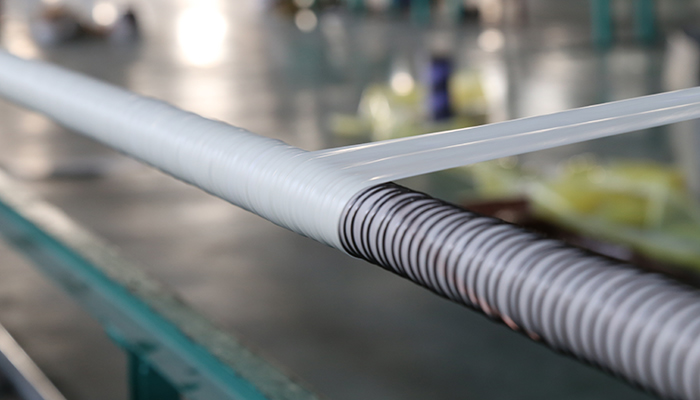 8. Marine Hose Production Line
We independently designed and developed this large diameter hose production line. The maximum range of the inner diameter of the hoses is 6-36 inches, the length is 0.5-8m. We can manufacture SPM, CALM, SALM, MBM, and Tandem Mooring series oil hoses.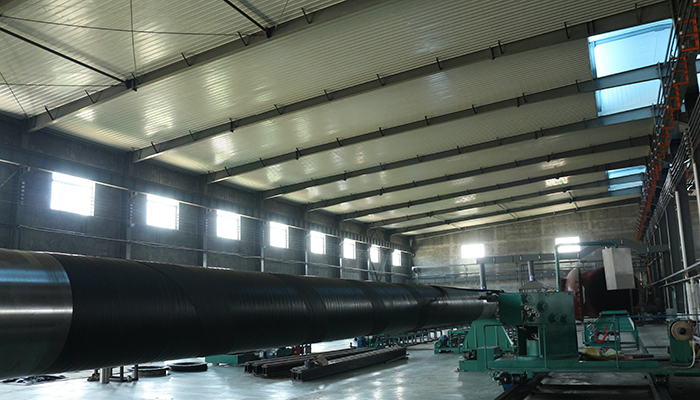 9. Vulcanizer
The vulcanizer is used for heating and curing of hoses using steam. This is the final step of making hoses. We use large vulcanizers with diameters of 1m, 1.5m, and 3m, their length can reach 60m.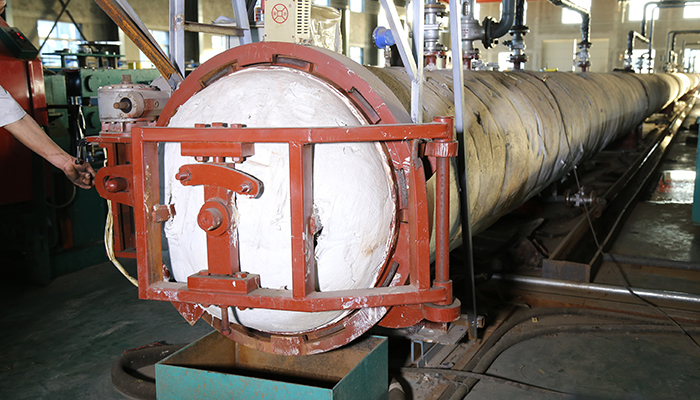 10. Finished Products Area
The finished products area is used for storing various specifications of packaged hoses.